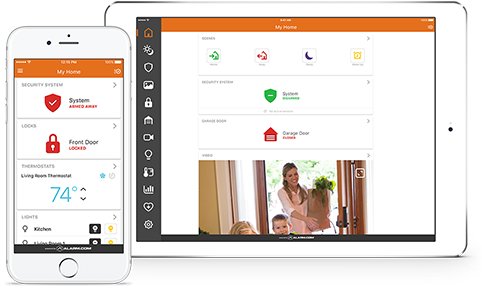 To help us ensure that we are on the cutting edge of the security industry, ACF Alarm has partnered with Alarm.com. The security industry is ever-changing. Innovations have been made to combine home automation and security. ACF's partnership with Alarm.com allows customers to control their system from their smart devices. Customers can arm/disarm their system and so much more.
Many current security panels are compatible to work with Alarm.com. However, an upgraded cellular communicator is necessary in order to utilize the special features Alarm.com offers. This communicator does eliminate the need for a landline telephone for your alarm to communicate to the Monitoring Station. Why you should consider upgrading your security alarm system now, wouldn't it be nice to be able to arm/disarm your system remotely without having to give a code to one of your neighbours while you're out of town? With an alarm.com communicator, you can arm/disarm your system from anywhere using your smart device. No longer will you have to give out a security code to a neighbour and then delete it when you return home.
CONTROL YOUR THERMOSTAT FROM ANYWHERE
Through Alarm.com, customers can install smart thermostats that can be controlled from their smart devices. Not only can schedules be set and adjusted from your smart device, but the thermostat can be set to an "Away" temperature, pausing the regular schedule and not continuing to heat/cool the home when no one is there. Thermostats can also be locked to prevent unauthorized changes in temperature. If smoke detectors are present in the home, an alarm from the smoke detector will automatically turn off the thermostat in an attempt to keep the fire from spreading.
OTHER SPECIAL FEATURES
Cellular communications through alarm.com also give customers the ability to add/delete/change alarm codes from their smartphone devices. Businesses with multiple employees are able to easily assign each employee a user code and track their activity from the Alarm.com website or mobile app. Commercial customers are able to sign up for daily or weekly activity reports showing when employees arm/disarm the system.
Other integrations with Alarm.com include Skybell video doorbells. Similar to ring.com, if someone rings your doorbell or if motion is detected on your porch, an alert is sent to the customer's phone. Not only can you see who is at your door, whether you are home or not, but you can also converse with the person no matter where you are.
For more information on ACF's partnership with Alarm.com, go to www.alarm.com/US/acfalarm or give us a call at 314-869-8500.