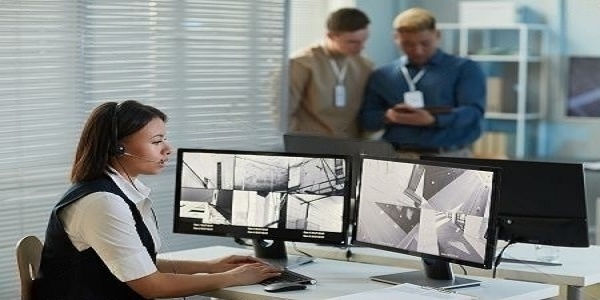 Protecting your property from theft and other criminal activity is essential for any business owner. One of the most effective ways to do this is by installing a commercial or business alarm system.
Just like residential alarm systems, commercial alarm systems offer a range of benefits for businesses. They can help prevent break-ins, deter criminals, and provide peace of mind for business owners and their employees. But what sets commercial alarm systems apart from their residential counterparts? You can read our blog post on the differences between residential and commercial security systems for more information.
What is a commercial alarm system?
A commercial alarm system is a security measure designed to protect large buildings and businesses. It is an essential security measure for any organization looking to secure their premises, assets, and workforce professionally. One of the key components of a commercial alarm system is commercial alarm monitoring, which ensures that your security is being professionally managed and monitored 24/7.
What are the benefits of installing a commercial alarm system?
Let us explore the top 5 benefits of installing a commercial alarm system and why it is a smart investment for your business.
Protection of Employees
Protecting employees is crucial for any business. Installing a business alarm system can provide your staff with a sense of security, especially during late-night shifts. With the added feature of manual alarm buttons, your employees can feel more in control of their safety.
Follow this blog to know how to choose a video surveillance system for your business.
In the event of a break-in, the alarm will notify the authorities immediately, increasing the chances of a swift and safe response. By prioritizing the protection of your employees, you can create a safer and more productive work environment.
Save on Insurance Costs
A commercial alarm system not only prevents theft and destruction, but it also reduces your insurance costs. Insurers often lower your annual fees when you install an alarm system because your business becomes less of a risk. You can further reduce costs by using commercial alarm monitoring services, thus improving profitability and competitiveness.
A business alarm system with video recordings allows you to provide evidence to support insurance claims, while preventing unauthorized access to your assets, lowering insurance costs even further.
Protect and Secure Restricted Areas
Limiting access to sensitive areas of commercial properties, such as the main office, safe, storerooms and manufacturing floor is essential. A business alarm system can be utilized as a means of access control by arming specific areas to restrict entry to authorized personnel.
In case of unauthorized access, the alarm will trigger, enabling a swift response. With access control systems and security cameras, you can control access levels of employees to different areas, and prevent intruders from entering restricted zones, without having to change locks frequently, saving money.
Have Remote Security Access
Modern security systems offer remote access to your commercial property, allowing you to monitor your building 24/7 from anywhere. With remote access, you and your staff can monitor both external and internal security. You can also set up notifications for system updates, battery replacements, and maintenance services. And with the right commercial alarm monitoring services provider, you can have peace of mind knowing your business is protected around the clock.
Keep Check on Environmental Changes
For businesses dealing with sensitive items that are affected by temperature or moisture changes, integrating sensors with commercial alarm systems is crucial. Furthermore, these systems can be integrated with fire or carbon monoxide detectors, and immediately alert authorities when triggered. You can even receive notifications directly on your mobile device, giving you peace of mind and the ability to monitor your property remotely.
Final Thoughts
Installing a commercial alarm system is an investment in the security of your business, employees, and assets. With ACF Alarm monitoring services, you can rest easy knowing that your business is constantly monitored for any potential threats. We offer the perfect security system tailored to your unique needs.
Our team of experts can provide on-site installation and 24/7 monitoring for optimal security and response times. Contact ACF Alarm Company today to learn more about our affordable commercial monitoring services.